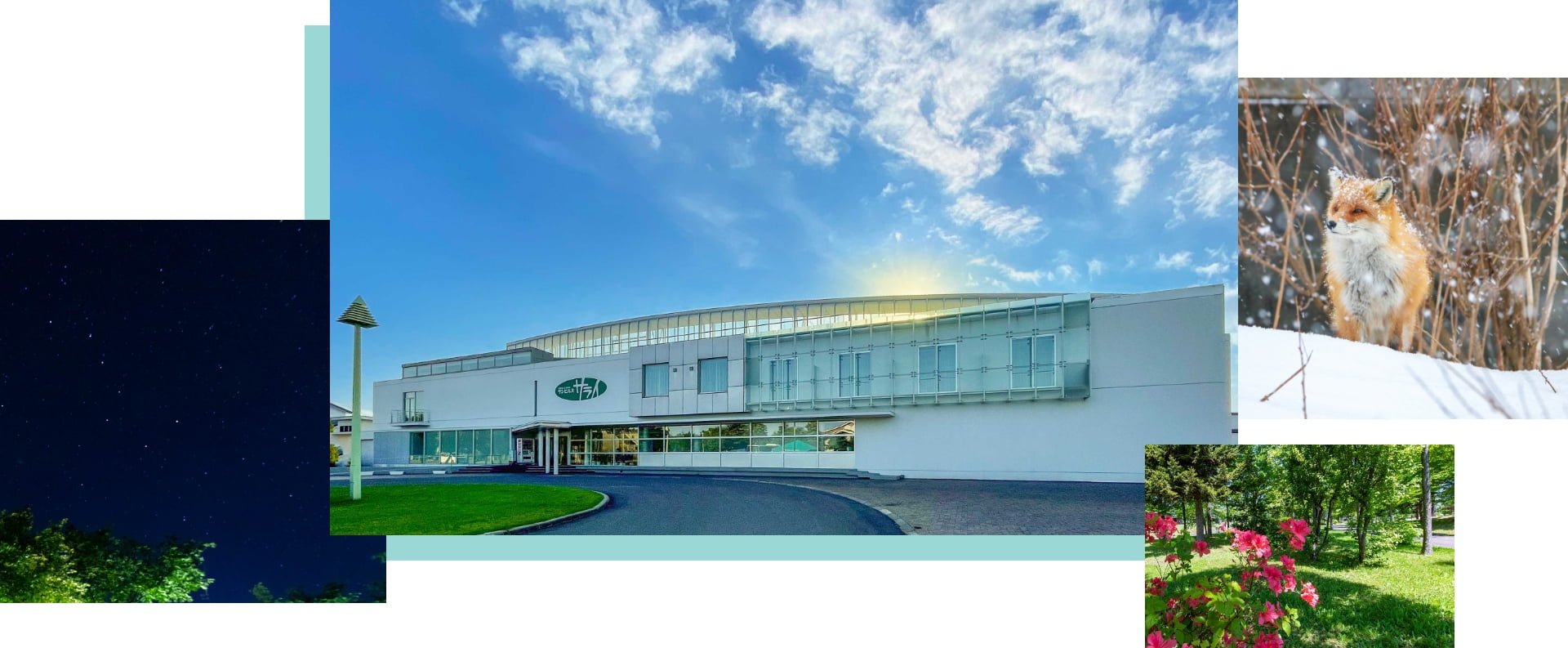 The "Furusato Park" offers a wide range of sports, cultural and outdoor facilities, including tennis courts and baseball fields.
At the entrance of the park you will find the hotel "Sun Hills Sarai" welcoming you.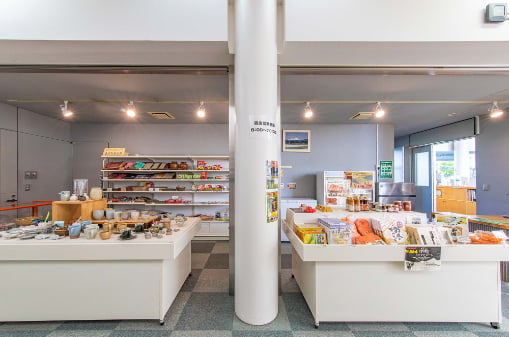 Shopping area
The store on the 1st floor of the hotel offers a wide range of souvenirs, including local specialties and handicrafts from the town of Shintotsukawa. There are also everything starting from sweets to laundry detergents, so please feel free to visit.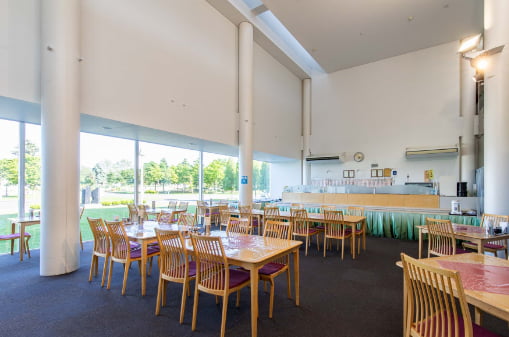 Restaurant Crystal
Located opposite the reception counter, it offers a wide variety of Japanese and Chinese dishes.
Among the most popular dishes are "Sarai Chahan" (fried rice) made with Takana leaves (Japanese giant red mustard) produced in Shintotsukawa, and "Cold Two-Colored Udon" (udon noodles) with "Sasa Men" (bamboo noodles) made from powdered Kumazasa bamboo, a local specialty.
The restaurant is also open to the general public.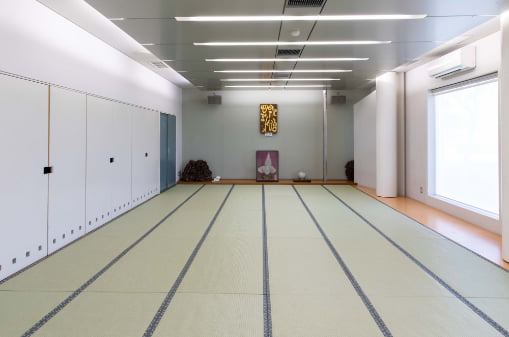 The Great Hall
The hall can be used for a variety of purposes, including banquets, club meetings and cultural activities.
It can accommodate up to 40 people in a spacious and comfortable setting.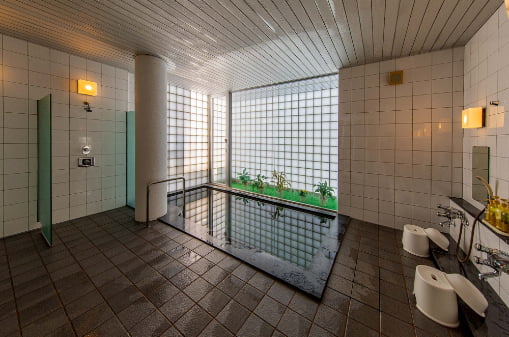 Bathrooms
The bathrooms are clean and comfortable, with glass tiled windows providing gentle light.
The bathrooms are equipped with a wide range of amenities including shampoo, conditioner, and body soap, as well as a shower booth.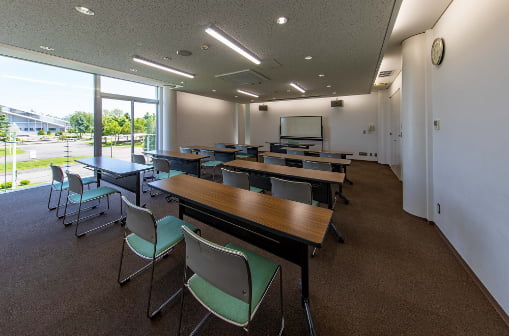 Meeting rooms
On the first floor of the facility, we have meeting rooms equipped with large screen projectors and sound equipment.
These rooms are ideal for meetings, seminars, and other business purposes.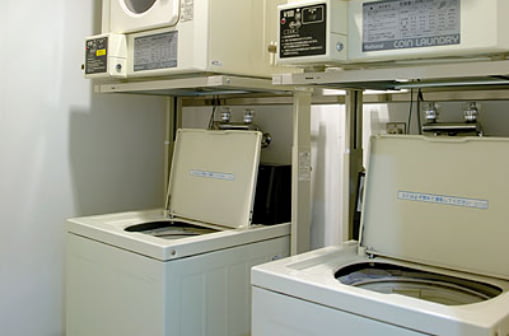 Laundry/Sink (hot water supply room)
There is a coin laundry for men and women in the hotel, which is convenient for long stays. Laundry detergent is available at the shop.
We also lend fabric softeners at the front desk, so please feel free to request them.
There is also a sink on the 2nd floor.
There is also a microwave oven and a free ice machine available for use.
※There is an ice container in each room.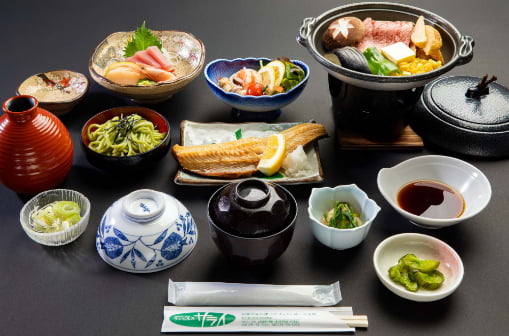 Accommodation and meals
Dinner is served with a variety of fresh ingredients, such as "Nanatsuboshi" rice produced in Shintotsukawa and udon noodles kneaded with Kumazasa bamboo powder.
We also offer a variety of seasonal dishes that include mountain's wild ingredients and summer vegetables.
Banquet menu
We offer a variety of banquet plans (from 8 persons, starting from 3,000 yen) available in the reception hall. Please contact the hotel for more information on the variety of plans available.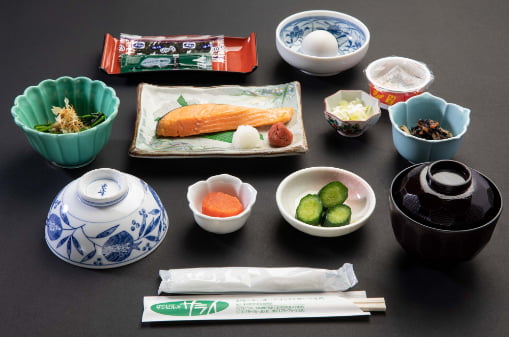 Breakfast example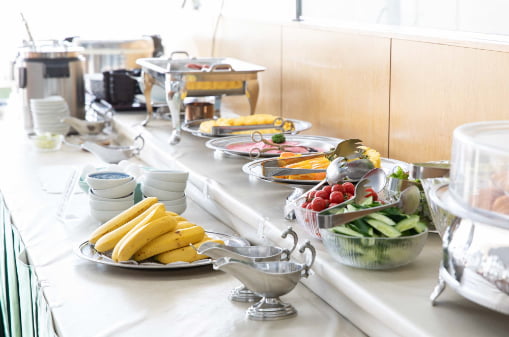 Breakfast buffet
※The buffet is served according to the number of guests.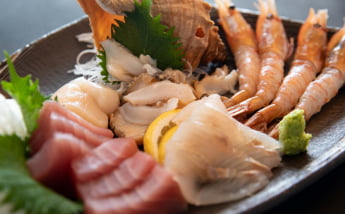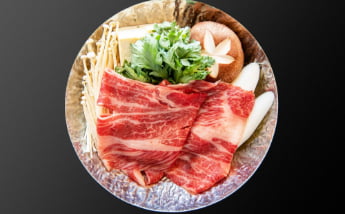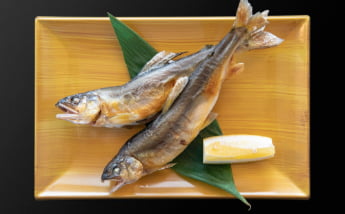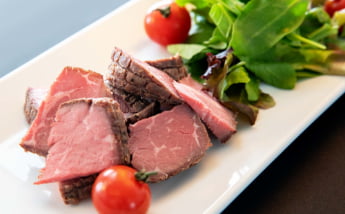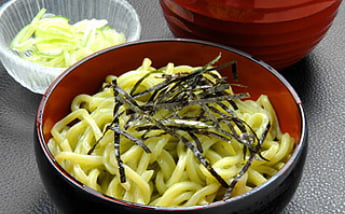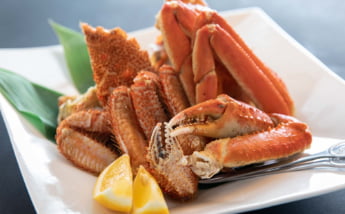 ※The menu is seasonal, so the dishes may change according to the season.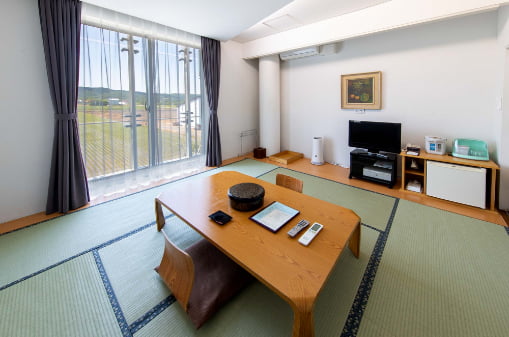 Japanese-style room
The Japanese-style room overlooks the rich nature of Furusato Park.
You can relax while feeling the cool and refreshing breeze.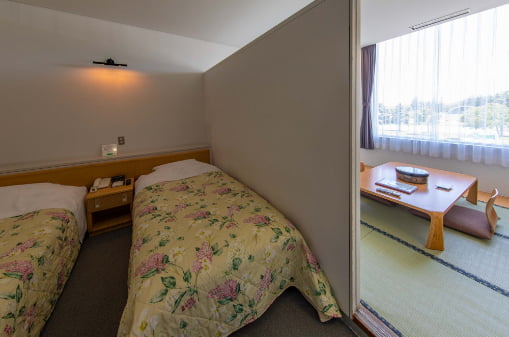 Japanese-style room
The Japanese-style room boasts a panoramic view of the rich natural surroundings of Furusato Park.
You can relax here while feeling the cool and refreshing breeze.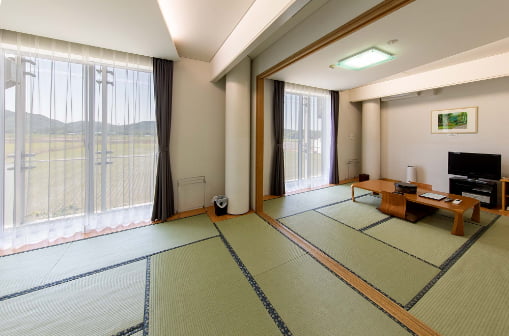 Large room
A spacious and welcoming Japanese-Western style room.
The bedroom space is separated from the living room space by a partition, and it is a structure that emphasizes comfort.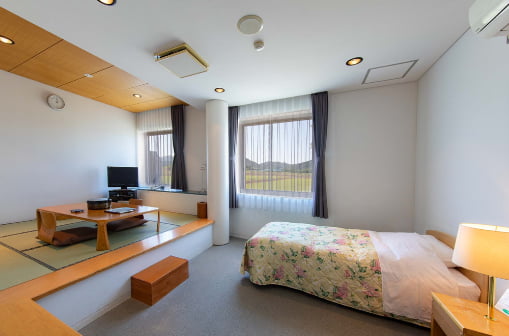 Barrier-free room
On the 1st floor of our facility, we offer Japanese-Western style rooms for barrier-free use.
These rooms are equipped with wheelchair-accessible utilities, including toilets with levers to help you sit up, and bathrooms with easy access.
Check-in 14:00
Check-out 10:00
※Upon check-in, at the reception desk, you will be given a free hot spring ticket for every guest at "Hotel Green Park Shintotsukawa" in Furusato Park.
Room facilities
Toilet with washing machine / Digital terrestrial television / Refrigerator / Electric kettle / Safe
Amenities
Bath towels, face towels, hand towels, yukata, slippers, toothbrushes
Furusato Park
Furusato Park has a lot to offer as a tourist attraction, from the hot springs and cottages to the Shintotsukawa Monogatari Memorial Hall and Cultural Center. The Park is also a great place for sports camps, with a baseball stadium, tennis courts, soccer fields and other sports facilities.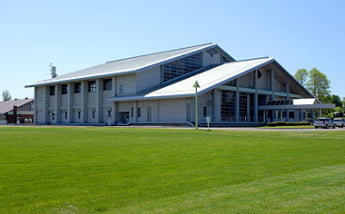 Sports Center
The Sports Center has a 34mx40m main arena and a 13mx40m sub-arena, as well as a gallery, a running track, and a playroom, which can be used for any occasion.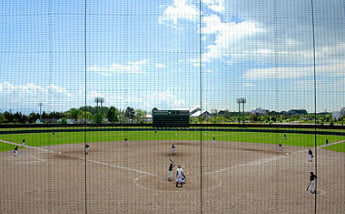 Pinne Stadium
This is a full-fledged 5,000 seat capacity baseball stadium with 98m wings and 122m center, with scoreboards and administrative facilities. The stadium is also equipped for playing at nighttime.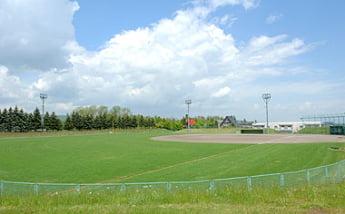 Furusato Park Baseball Field
This is a night proof baseball field with 86m wingspan and 100m center.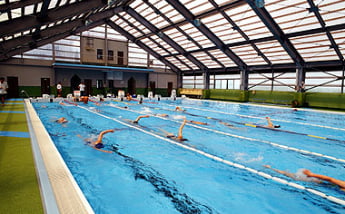 Heated swimming pool
There is a 7-course (25m x 15m) swimming pool and a toddler's pool, which are kept at a constant temperature so that you can fully enjoy swimming.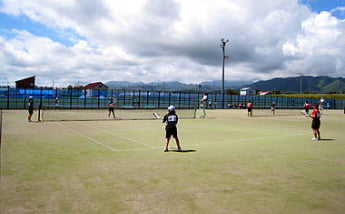 Tennis Courts
There are four artificial grass tennis courts (omni-courts) and five clay tennis courts, equipped with night lighting.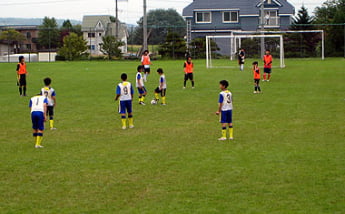 Soccer field
The court is rather small (85mx50m), but the whole surface is covered with natural grass, making it safe for children to play and enjoy.
Sapporo - Shintotsukawa
Using National Road No.12: about 87km, takes about 2 hours. Using National Road No.275: about 77km, takes about 1 hour and 45 minutes. Hokkaido Expressway Sapporo JCT ~ Naie Sunagawa IC ~ Sun Hills Sarai, takes about 1 hour and 30 minutes
・New Chitose Airport ~ Shintotsukawa
Hokkaido Expressway New Chitose Airport IC ~ Naie Sunagawa IC ~ Sun Hills Sarai, takes about 2 hours 10 minutes
From Sapporo to Takikawa Terminal by Hokkaido Chuo Bus (Express Takikawa-go),1 hour and 30 minutes.
From Hokkaido Chuo Bus Takikawa Terminal it takes about 20 minutes.
JR Hakodate Line Sapporo Station ~ Takikawa Station
Time required: approximately 50 minutes by limited express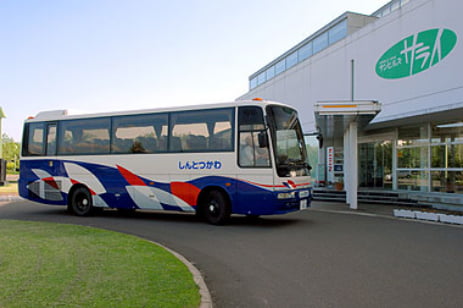 Free Shuttle Bus
We offer a free Shuttle Bus for group visitors. For groups of 10 or more people from the Shintotsukawa area, or 20 or more people from the Asahikawa and Sapporo areas (limited to accommodation banquet plans).

Cottage VILLA Tokutomi
Surrounded by the great nature of Hokkaido
This is Shintotsukawa town in Hokkaido.
It is a rural town located between Asahikawa and Sapporo.
There is no noise or rush of the city.
There is only nature and relaxed atmosphere.
Let yourself be carried away by the leisurely flow of time and feel the harmony of nature.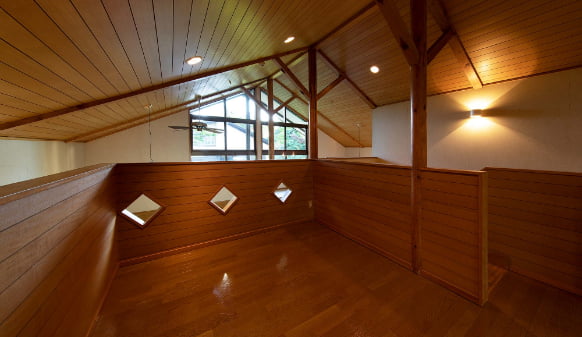 Shintotsukawa's nature is not only exceptional for its greenery in summer.
In winter, the whole area becomes a silvery white world.
On a clear day, the night sky is filled with the twinkling of winter constellations, and at day time air is filled with glitter of dancing snowflakes and ice-crystals.
The clear air and the low concentration of lights in the town makes it perfect for relaxation.
We invite you to enjoy this landscape from a special seat reserved just for you.
Cottage Photo Gallery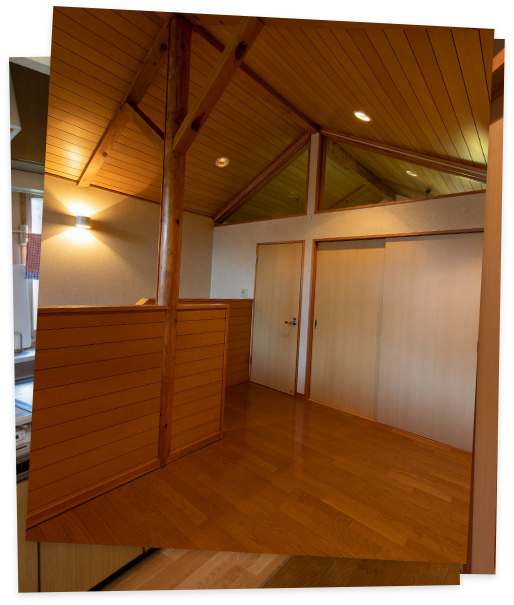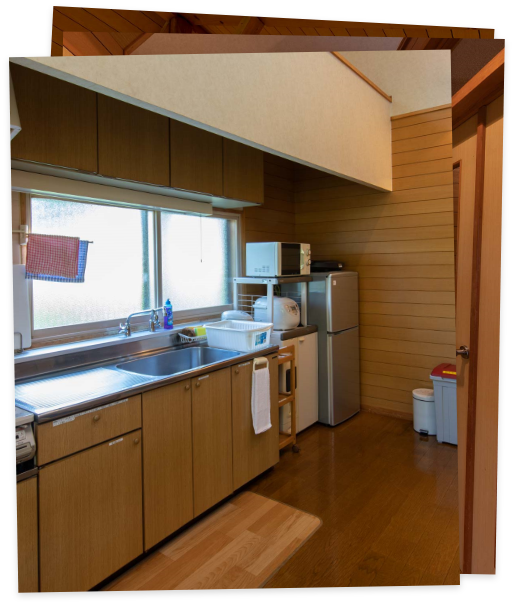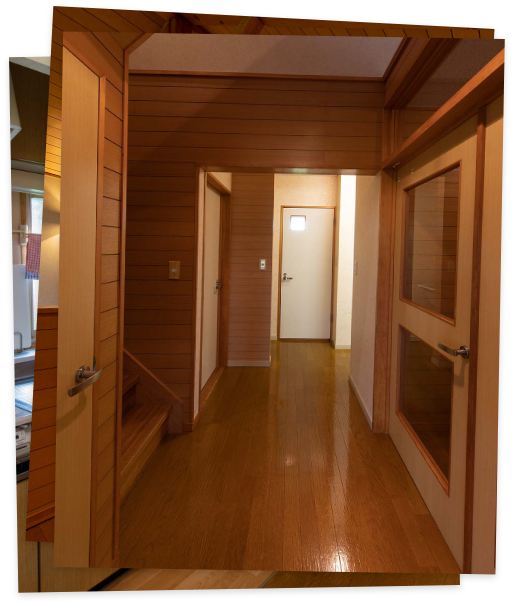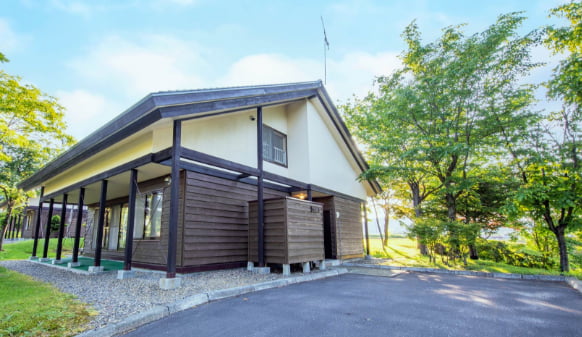 Each of the four cottages is equipped with an outdoor barbecue stove.
The interior, which uses plenty of wood, has a spacious room which makes it feel more like a resort.
The cottages are ideal for families or groups of friends who want to enjoy being surrounded by breathtaking views of nature.
Summer Photo Gallery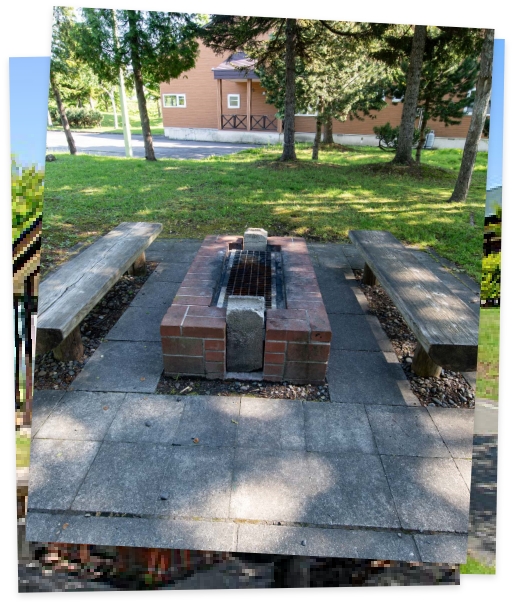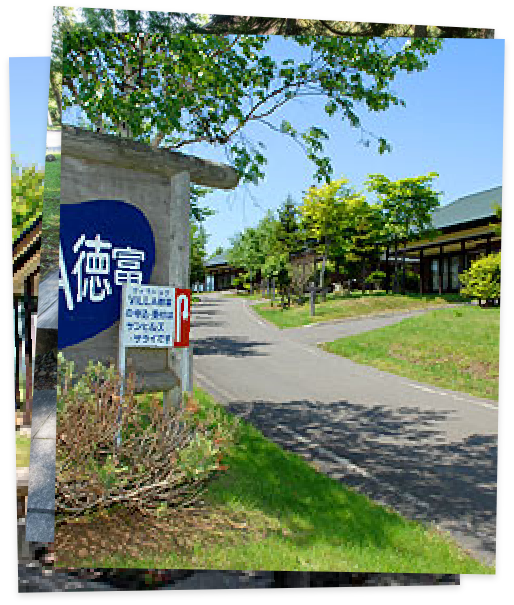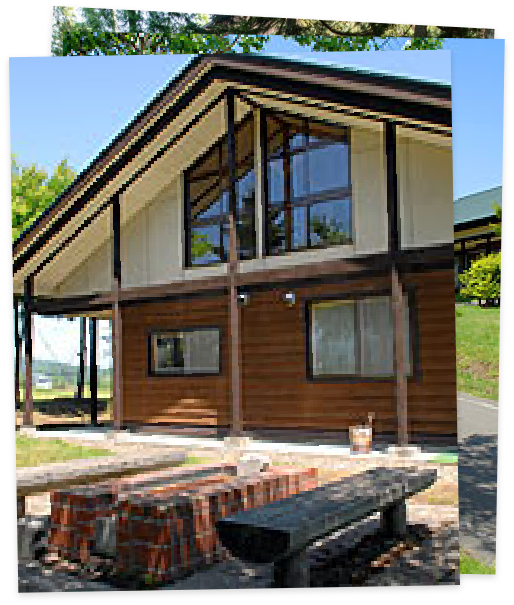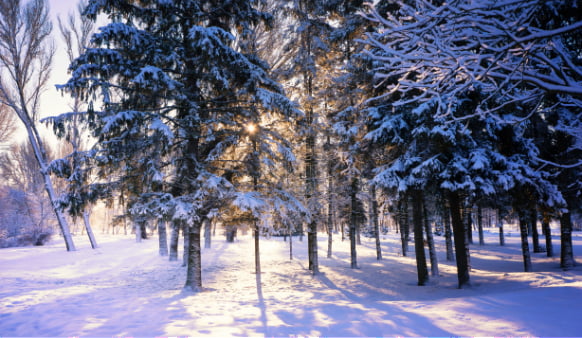 A cottage where you can enjoy the refreshing summer of Hokkaido. Here you can experience the lifestyle of the holiday home you have always dreamed of. You will be surrounded by nature that will make you forget the mundane everyday life.
Winter Photo Gallery